We Work Faster:
PTI is a strong global partner focused on maximizing value for our real estate developers, owners, and tenants. We are wireless telecommunications experts.
The value of connectivity has never been greater than right now. To keep up with consumer demand, Mobile Network Operators (MNOs) around the globe seeking to expand wireless service coverage and enhance capacity need quality real estate for the development of cellular towers, rooftop antenna sites and in-building solutions. With expertise in wireless infrastructure and an international footprint, PTI offers MNOs best-in-class real estate solutions to expand and improve their network coverage. Partnering with PTI will deliver unmatched visibility to your asset at no cost, transforming otherwise unused and underperforming space into revenue.
Site
Marketing
Whether you are a commercial real estate owner, billboard owner, REIT, municipality, or government agency, PTI will design a customized marketing plan that captures the attention of Mobile Network Operators, resulting in wireless income opportunities and a boost in property value. PTI will market your real estate asset alongside the PTI tower portfolio, increasing visibility through our strategic partnerships and corporate affiliations with global telecommunication providers. What's more, site marketing services are zero cost to the property owner unless new business is generated.
Site & Lease
Management
PTI's site management services deliver maximum value at every opportunity, providing property owners with peace of mind to focus on their core business. When leased, the asset will benefit from enhanced connectivity capabilities and efficient management of new and pre-existing installations. PTI will manage and monitor the day-to-day lease administration activities for pre-existing and new wireless tenant leases. Our leasing specialists follow through on all lease inquiries, negotiate favorable business terms, and monitor and manage expirations, renewals, and payment activities.
In-building
Wireless
PTI operates Distributed Antenna Systems (DAS) to deliver a superior mobile experience for tenants, customers and guests in premier properties. Our experience developing and operating DAS in partnership with property owners and Mobile Network Operators leads to improved customer retention, higher property values and increased workforce productivity. With each new DAS opportunity, or in the case of an upgrade to an existing DAS, PTI will market the property to Mobile Network Operators, negotiate leases, design and build a fiber optic network and install the active electronics to deliver a 5G experience.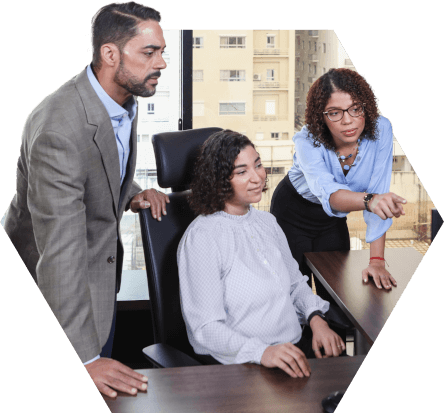 Get more from your property with PTI. We deliver our real estate partners the value of knowing their properties are in the best of hands.
Record keeping,
billing & collections
PTI's full-time staff of industry experienced professionals in accounting, legal, and lease administration maintain a secure online portal ensuring accurate and timely payments, rent roll reconciliation, and deliver comprehensive and customized financial reporting to property owners. PTI delivers its real estate partners the value of knowing their properties are in the best of hands.
Installation oversight
& access management
PTI oversees all aspects of the installation process and in many cases will self-perform the site acquisition and installation services ensuring regulatory compliance, structural integrity, and building aesthetics. PTI acts as the first and last point of contact for wireless carriers to schedule and coordinate technician access for equipment maintenance, updates, and repairs.
Land and rooftop
income acquisition
PTI works with real estate owners, municipalities, and government agencies globally on the acquisition of land and leases under existing wireless towers and roof-top equipment. We partner directly with real estate owners to acquire land under our sites and with landlords who collect income from other wireless operators on their properties.
As a private business, PTI can better address an owner's needs to convert ongoing wireless income stream to a significant lump-sum payment, while guaranteeing the owner of the tower stability and reliability.
Get in touch

with us
Your questions are important to us and we are here to help you achieve your goals.